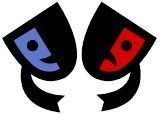 About BC Drama Festival
The Festival was originally staged in Ilford for church youth clubs in the Diocese of Brentwood moving to St Edward's Church Hall in Romford when it was taken over by Cyril Dennis, to save it from closing down. He successfully ran it with the support of a dedicated and passionate team of volunteers until his death in 2004. He also wrote plays for several groups.
After Cyril's death his son Mike Dennis, took up the reins and carried on until his untimely death in 2006. Festivals like ours are becoming fewer and much gratitude is owed to the team for continuing their hard work and efforts to keep this unique festival running. Some group members have passed on the Drama "bug" to their children, with two families having had three generations represented over the years, making this festival something of a family tradition.
Over the years we have held the Festival at Romford Technical School, the Sacred Heart School in Upminster and the Havering 6th Form College in Hornchurch, finally coming home to Brentwood in 2009. We have also always been very fortunate to have had the expert advice and encouragement of many excellent adjudicators several of whom have 'cut their teeth' at our Festival.